The role of a business & finance professional is evolving rapidly with the impending Fourth Industrial Revolution. Technical skills have been identified consistently as the most in-demand skill for success in these industries.
Why do I need Technical Skills?
8 out of 10 professionals in finance say that they are not yet equipped with the technical skills required to meet the job demands in the next 10 years. To keep up with the competition, you need to prepare yourself with the skills in demand. Make yourself an indispensable asset. Leverage new technology to value add for consumers and businesses. Or else? Simple Answer. Get. Left. Behind.
So what are the factors that are at the driving seat of this technological revolution? Let's take a look at them one by one:
Rapid Urbanization:
The world's urban population is likely to double within the next 30 years. This fast-paced urbanization is bringing with it numerous challenges and opportunities. As such, the best time to strap up and take action is now. Now is the time when businesses and organizations are in need of high-skilled and technically sound professionals, who can offer more than just solutions. They want professionals who can foresee the changes before they happen and take charge. If you equip yourself with the right skills and knowledge, you will find the best opportunities of this urban revolution come knocking at your doorstep.
Increasing Automation:
Computers and robots have automated most of the tasks that used to be performed by human beings. A large portion of the 6 million US manufacturing jobs was lost as a direct result of automation. But there are still jobs that will continue to require a human touch and analytical abilities of a human brain. Chatbots can take over the monotony of customer service, but someone will still be needed to recognize opportunities, train models and algorithms, and take control of the systems to see if they are delivering business value.
The Rise of Big Data
In the past two years, the amount of data at our disposal has grown exponentially. Currently, the amount of data we create in two days is almost equal to the amount generated from the beginning of time until 2000. If you think honing your data skills is not going to do you much good, try to wrap your head around these stats:
Almost 73% of companies are investing or planning to invest in big data in 2016
Businesses that can leverage the full power of Big Data can increase their opening margins by almost 60%.
Believe it or not, right now, less than 0.5% of all the available data is being put to use, in spite of all the potential it holds.
Now imagine how much businesses can benefit from someone who is skilled enough to put all this data to use and how much they would be willing to pay for it!
The Emergence of Fintech
With the evolution in business, there's more and more emphasis on FinTech today. Fintech is the evolving intersection of technology and financial services. These are companies that apply technology in novel ways focusing on consumers. There is a rapid increase in Fintech firms and businesses are investing more and more money in Fintech, In fact, FinTech adoption is expected to rise to an average of 52% globally within the next 2 years. We know what that means! There's going to be plenty of high-paying job opportunities in this sector.
So, this much is clear:
Professionals in Finance must put technical skills at the forefront of their qualifications. They must also be up-to-date in their knowledge of tools and platforms that are relevant to the finance industry. This will heighten their employability in the transforming economy.
But what are these skills? These skills are the leading-edge technologies that define the modern 21st century: Machine Learning, Blockchain, Data Science, and AI. Mastering even a subset of these skills will help any professional go a long way.
Technical Skills In Demand for Business & Finance
Below are the in-demand technical skills searched for by top recruiters in the Finance industry. For each skill, I have suggested a relevant online course you can enroll in to master it.
Machine Learning
Course: Machine Learning and Reinforcement Learning in Finance Specialization
Offered by: New York University Tandon School of Engineering
This course is meant for students, professionals working in Finance or any individual who wants to apply Machine Learning (ML) techniques in their personal trading.
It demonstrates the different ways in which ML can be applied in finance and how the different ML models work to evaluate data. Financial organizations are scrambling to invest in machine learning R&D and so should you. The course material uses simple terminology, so anyone with an interest can easily assimilate the content.
Pros
Cons
Learners get to practice hands-on by creating their own models from research papers
Requires some amount of programming knowledge
Learners get a good feel of what ML in Finance is all about.
Involves more theory than practical work
Provides a great base for other more advanced machine learning courses.
Algorithmic Trading
Course: Algorithmic Trading and Python for Trading Course
Offered by: AlgoTrading101
This course focuses on practical trading concepts and strategies instead of theories. It is designed for those who want to start a side job that doesn't interfere with office hours.
It covers modern quantitative trading methods such as scraping alternative data from websites, sentiment and imagery analysis (machine learning), futures calendar spreads and statistical arbitrage in addition to fundamental algorithmic trading skills.
There is a 2-months waiting time to enroll in this course where you can access a bunch of introductory resources to algotrading. This course not only teaches you to code in Python, MQL 4, MQL 5 and Excel VBA, it also teaches you how to build logical long-run money making strategies.
| | |
| --- | --- |
| Pros | Cons |
| Instructor is hands-on and guides students individually when required. | Could have more practice questions. |
| Instructor seems to be an active trader. | |
| 30-days refund policy. |   |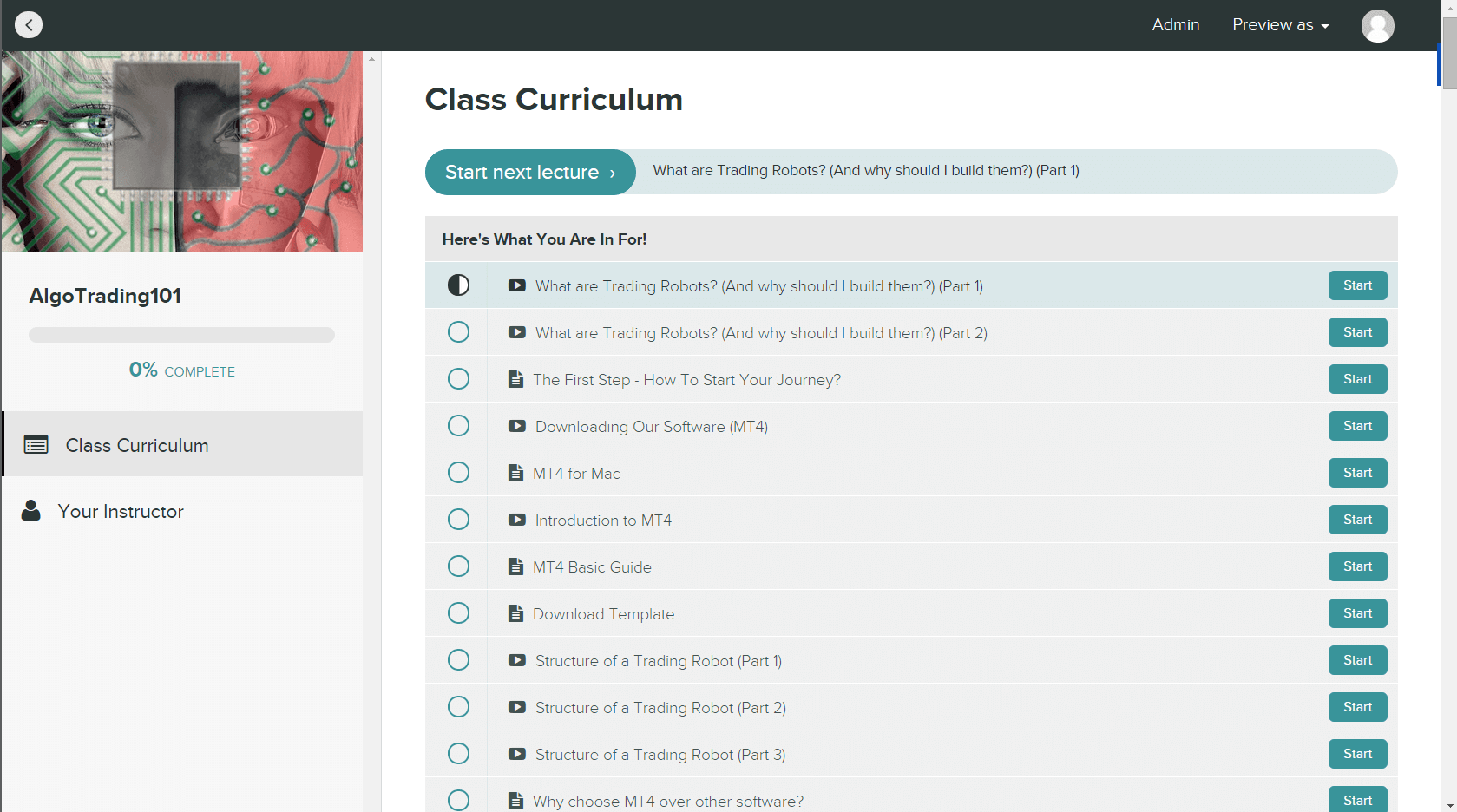 Blockchain Technology
Course: Supply Chain Finance and Blockchain Technology Specialization
Offered by: New York Institute of Finance
Blockchain programming is booming now. It is one of the fastest-growing skills in most freelance talent marketplaces. The course focuses on Blockchain Technology implementation, foreign currency risk management and a host of other skills from the point of view of Supply Chain Finance.
It is a 4-course program that starts with an intro about how blockchain can be applied to the Supply Chain. This is followed by a module that helps you analyze a supply chain system and identify key factors necessary for setting up a Supply Chain Finance program. The third module will help you bring the supply chain finance market and fintech systems together and the course ends with a look at future developments in the area.
Pros
Cons
Provides a more practical application of Blockchain programming in terms of Supply Chain Finance.
Requires some amount of familiarity with basic concepts in corporate finance
 Learners get a comprehensive idea on the scope of supply chain finance
Requires some basic knowledge of Math and Statistics
Gives learners a good understanding of the Distributed Ledger Technology (DLT).
Data Science
Course: Python and Statistics for Financial Analysis
Offered by: Hong Kong University of Science and Technology
This course focuses on how data science can be used to make financial decisions in the stock market. It combines statistical concepts with Python, using modules like the Pandas module to analyze stock data. The course starts with a basic overview of some statistic concepts, after which, it goes over how to import, pre-process and analyze financial data using Python packages.
In the end, it also explains how Python can be used to perform a regression analysis to make predictions on stock returns. Finally, you will learn how to evaluate your models according to statistic and financial standards.
Pros
Cons
The course does not require installation of any additional applications.
Requires some basic knowledge in probability
You can practice the examples within the Jupyter notebooks embedded in the course material itself.
A hands-on course that will equip you to manage and analyze stock data and make stock predictions
Artificial Intelligence
Course: AI For Everyone
Offered by: deeplearning.ai
AI is the most important of the emerging technologies in Finance. In fact, about 30% of large financial organizations have already started putting money into AI. This course is taught by Andrew Ng, Adjunct Professor at Stanford University; formerly Chief Scientist, Baidu and founding lead of Google Brain.
The course stresses on the fact that in the present age, AI is not just for engineers anymore. It is for everyone, including people in Finance. The course is perfect for beginners, as it begins with meanings of common AI terminology. It then presents the scope of AI and how one can spot areas where AI can cause a transformation.
The course goes on to give information on how one can work with an AI team and build an AI strategy within their organizations. This course is mostly non-technical and focuses on the business applications of AI. Moreover, Andrew Ng's simple explanation style makes it perfect as a starting point for those who wish to apply AI to their job or business.
Pros
Cons
Easy to understand and ideal for anyone from a non-technical background
Could have done with a few practice exercises.
Flow of the course is well-paced, so it's excellent for beginners.
Good illustrations and concise explanation provided by one of the best in the field of A.I.
Business Analytics
Course: Business Analytics Specialization
Offered by: University of Pennsylvania
The rise of big data has necessitated the presence of a strong base in data analytics. This course taught by professors at the Wharton Business School will teach you how to prepare large amounts of data for better analysis, how to describe the available big data and how to make informed business decisions based on your analysis.
By the end of the course, you will be equipped with an analytic mindset, so you can look at any data and know exactly how you should use it for the betterment of the business. All the data used in the demos are real-world data, so learners get an actual feel of analyzing corporate data, making them better prepared for real-world projects.
Pros
Cons
The capstone project helps learners apply the skills learned on a real-world data set. This helps learners master the art of making the right decisions.
The course does not have a lot of technically challenging material for engineers or those with an already good background in statistics.
Not much coding involved, so it is great for non-tech people.
Conclusion
Technological advancements are already making their mark on the finance industry. They are increasing profits and productivity by streamlining a lot of projects and processes. However, with the pace at which technology is advancing, it is likely to create a wide deficit in the number of employees with the required technical skills within a few years. To make yourself an indispensable asset it is necessary to undergo continuous training and education. Don't look for jobs, let jobs come looking for you.