Who would have thought a company which started off as an online book store back in 1994 would not only go on to redefine online retail, but become a trillion dollar tech giant which would lead the way to the digital transformation that we are currently seeing – all this in a span of 25 years only. Here are some of the other examples of how Amazon continues to expand its services to novel concepts beyond its niche market.
AWS Cloud Dominance
Cloud Computing is basically a paradigm shift to how we access, store & retrieve different forms of data – documents, photos, music and applications. The usual on-site storage devices have been replaced by online infrastructure called the Cloud which can be accessed from anywhere in the world across multiple devices & varying platforms. This transition has been necessitated by the mammoth amount of data that is being produced every minute around the globe.
Some of the big tech names besides Amazon that are providing such infrastructure to their clients include Microsoft, Google & IBM. The subsidiary of the e-commerce giant Amazon Web Services (AWS) rules this market segment as evident from the statistics provides in the infographic below. Serving more than one millions customers in more than 190 countries, AWS controls 41.5% of the share of the Cloud market. Launched in 2002, it has become one of the most successful & profitable ventures of Amazon – despite reducing the prices 60 times ever since its launch, AWS generated more than $26 billion for its parent company in 2018.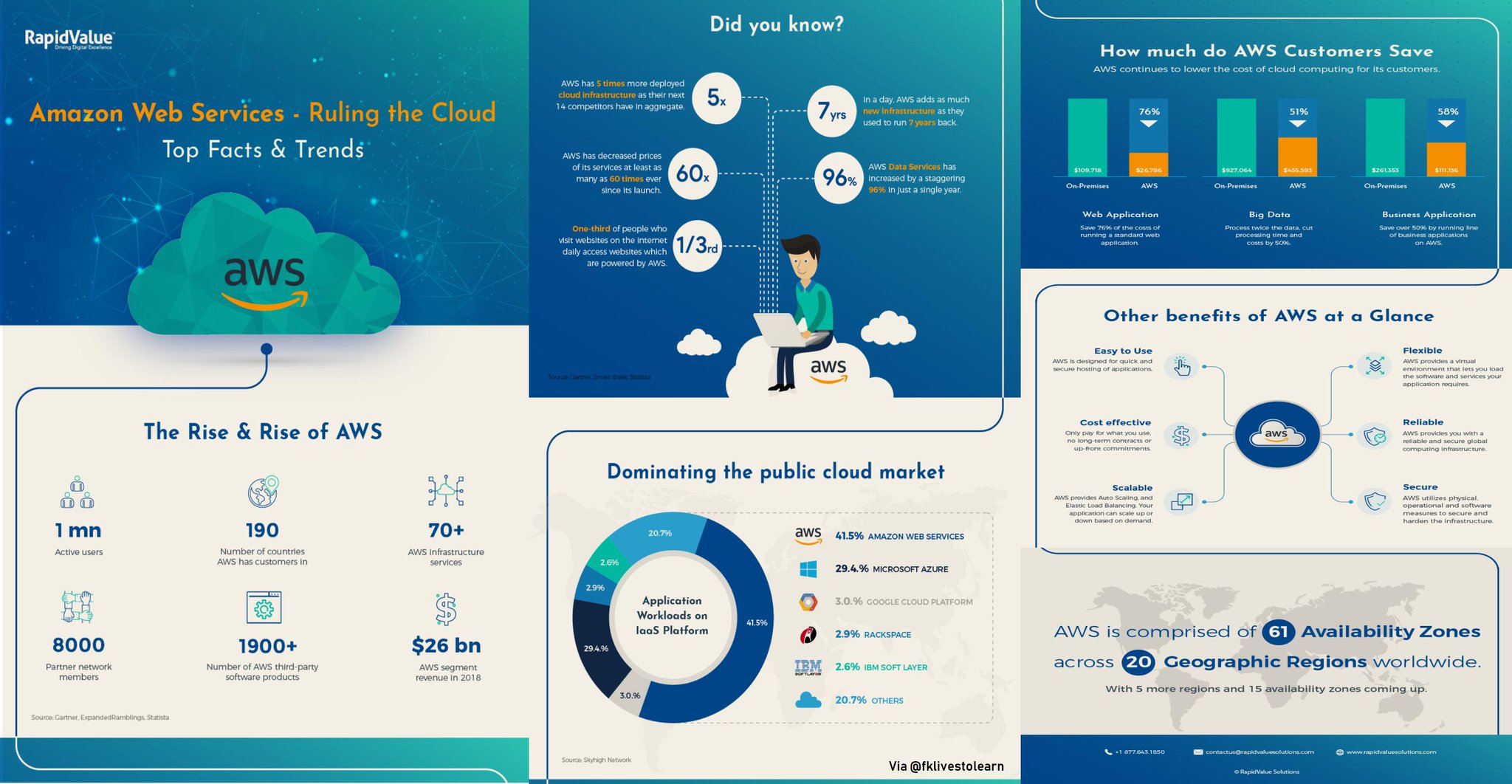 Project Kuiper
Big techs are at the center and front of building the digital infrastructure to provide global connectivity with innovative projects – Starlink Satellites by SpaceX, Project Loon by Google & Kuiper Systems by Amazon are all aiming to provide internet access to far-flung areas of the planet. Amazon's ambitious project is similar to Starlink of putting low orbit satellites to provide global broadband coverage. According to the documents filed with the International Telecommunication Union (ITU) & Federal Communications Commission (FCC), the project consists of 3,236 satellites in 98 orbital planes, at altitudes ranging between 366 and 391 miles (590 and 630 kilometers). The first of the five phases include the deployment of 578 satellites. However, the filings did not mention the design of the satellites or the date when they will be launched but it is expected Amazon's space venture Blue Origin would most probably take on the job.
UK's Tech Doctor
Use of technology to improve the healthcare system is making it more efficient an accessible while reducing the burden on Public healthcare services. One such example is the UK's National Health Service (NHS), which has recently entered into a partnership with Amazon. This would enable Amazon's smart speaker system Alexa to answer health-related questions by searching the NHS website, containing a database of health tips. The UK has also recently concluded a deal with an AI-enabled health App Babylon – which enables its users to check symptoms, see a doctor and easily access your clinical records.
The British government believes the Amazon partnership would not only reduce the burden on the over-stretched healthcare services but help elderly, disabled, or blind patients to access useful health-related information. The skeptics believe the service will only deliver generic answers to your health-related questions & not provide specialized advice given by a doctor. Concerns around data privacy remain with high with the use of smart speakers, but Amazon insists that data used is encrypted and confidential, which can be easily deleted by customers.
Futuristic Employer
Amazon set a good precedent by increasing the minimum wage of its U.S workers to $15/hour last year. Amazon CEO Jeff Bezos actually went on to challenge other retailers to follow his lead – easier said then done for Amazon's competitors, who are already struggling to keep up pace with cash-rich e-commerce giant. Now, Amazon has taken another giant step by announcing to retrain a 100,000 of its U.S. employees for more in-demand jobs by 2025. The company plans to invest $700 million in this "upskilling" endeavor. Workers will be trained on in-demand roles like Data Mapping Specialist, Data Scientist, Solutions Architect, Business Analyst, Logistics Coordinator, Process Improvement Manager and Transportation Specialist. These programs will be conducted via Amazon Technical Academy, Associate2Tech program and Machine Learning University.  No doubt good companies are those who retain & retrain their talent pool.
As the automation & digitization of the global economy takes shape, there is no doubt that Amazon is gearing up to be the leader.
Email 📭| Twitter 📜 | LinkedIn 📑| StockTwits 📉 | Telegram 🔗