Let's kick things off with a look at the price action in Cryptocurrencies. April has been a tremendous month for Cryptocurrencies. The bullish correction which has taken the shape of a mini-rally has sustained gains for a full month, which we haven't seen in almost a year & half. Majority of the Alt. coins have followed Bitcoin (BTC) in price action upwards, but by far BTC has been the biggest beneficiary of the ongoing bullish momentum. At the time of writing BTC dominance stood @ 54.8% with the total market cap in Cryptos amounting to $179 billion. Let's move on to some other topics of interest now.
Samsung Coin
Samsung has carved a reputation for being a trusted brand in the high-tech world. It is the biggest brand in the smartphone market with the pioneer Apple lagging behind at the second spot (infographic below). Lately, the Korean tech giant has become increasingly interested in the Crypto/Blockchain space. The first in line was the integration of Crypto wallet support in Samsung Galaxy S10 back in February. This was the same time when the tech giant also made public its intentions of releasing a Foldable smartphone in the near future. The Flagship product hit a huge snag when the early review units exhibited a multitude of problems with broken screens, bulges & flickering issues. Samsung's gamble to become the first major company to launch the pioneering product has turned into a blame game as the April 26 roll-out has been pushed back by at least Mid-June. Perhaps Samsung can learn a thing or two from Apple on how to sell the same products with minor upgrades a little gloss over effect, for a higher price every year!
Well, it wasn't all bad news for Samsung as it launched a newer version of the enterprise blockchain platform called Nexledger Universal. With an increasing number of mainstream tech companies showing their willingness to experiment with the emerging DLT & find Use cases, this move by Samsung marks another step in that direction. Nextledger Universal will have a standard application programming interface (API) working under the Samsung SDS NCA (Nexledger Consensus Algorithm) which can also be applied to general blockchains like Hyperledger Fabric & Ethereum. Nextledger Universal will be available as a platform as a service (PaaS) in the Microsoft's Azure marketplace, thus giving the customers the capability to develop applications on the Cloud without the need for any extra hardware. Rumors are also ripe that Samsung is developing its native token dubbed as "Samsung Coin" for its blockchain platform. While the news has not been confirmed officially but with the Main net launch of its enterprise blockchain platform, it might very well make sense to do so for its ecosystem. We might not have to wait too long – as with the foldable phone debacle, Samsung will be looking to restore its tainted reputation.
Amazon & Microsoft's BaaS
The e-commerce giant is a tech powerhouse & no stranger to anyone, but apart from capturing the major chunk of the Online business market, it has spread its prowess to other areas of influence as well. The most notable in this regard has been its Cloud platform subsidiary Amazon Web Services (AWS). Recently, AWS launched its BaaS service made publicly available, called the Amazon Managed Blockchain (AMB). More recently, Microsoft Azure, the other bigwig in the Cloud Platforms arena has also released advanced tools for its Azure Blockchain Service for developers – AI, mixed reality, IoT and blockchain will be available for Azure's advancement from Cloud to Edge Computing. The Seattle-based tech giant has also announced that it would be supporting JP Morgran's Quorum blockchain (private enterprise version of Ethereum) on its Azure Cloud platform.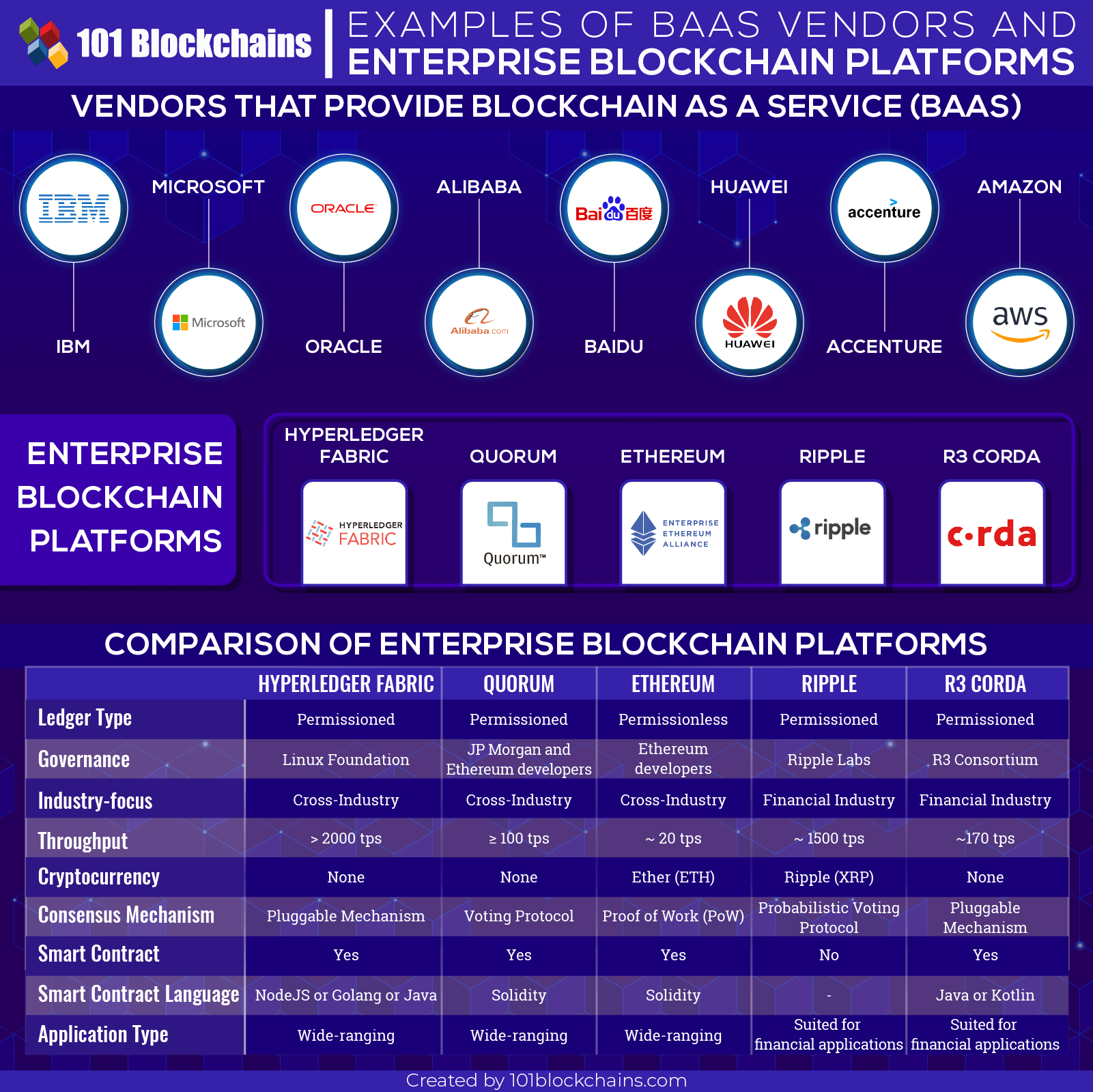 Most common form mainstream adoption that we have seen so far has been through enterprise-level blockchain platforms, introduced by major players in the tech industry (infographic above). The recent releases by Amazon & Microsoft is not just an attempt to get a handle on the fledgling Digital Ledger Technology (DLT), but to provide easy to build customizable solutions platforms to enterprises. Other major players in the foray include IBM, Alibaba, Accenture, Huwaie & Baidu.
Coming back to BaaS – Blockchain as a Service is a similar architectural solution as we have seen prior to this in SaaS, PaaS & IaaS. Companies can utilize this enterprise-grade blockchain solution to build their own networks employing dApps, automated functions & smart contracts in a time efficient & low-cost manner. The basic principle of BaaS is pretty simple – companies buy all the services on the managed platform from the vendors including high-end hardware, resource management, efficient security protocols, bandwidth management & appropriate hosting solutions. Thus the companies can focus more on the operational side of the business rather than fretting over the enterprise blockchain implementation.
Rise of CoinJoins
Although Bitcoin is the pioneer for the peer-to-peer digital currency, privacy has not really been its strength on its public blockchain. Alt. Coins like Monero & Zcash do a much better job of conducting private transactions. Having said that, there have been multiple attempts over the years to improve Bitcoin's privacy. One of the most well-known privacy enhancements is the Wasabi Wallet – a Bitcoin digital wallet, which achieves greater levels of anonymity by implementing CoinJoin. For those of you who are not familiar with the term CoinJoin – it is a privacy enhancement for Bitcoin network, achieved by mixing of different bitcoins in a single transaction to obfuscate the connection between the sender & receiver, where it is easy to determine when "Alice" sends some bitcoin to "Bob." So for a CoinJoin, Alice could have sent the money to either Bob or many other possible recipients thus keeping the identity of the receiver secret.
While it is difficult to track transactions on the Bitcoin blockchain with CoinJoins, they are relatively easy to identify with the small percentage of CoinJoins of the total transactions as indicated on the chart above. However, according to latest data released by Adam Fiscor, who is the CTO of zkSNACKs (the company behind Wasabi Wallet) shows that CoinJoins are on the rise again, with the possible turn around in the Crypto winter. The climb of the CoinJoins from 1.31% to 4.09% after the release of Wasabi Wallet in August 2018 might also mean that more people are using the Crypto kingpin BTC for its original intended purpose of being a permissionless, decentralized & private digital currency. Mainstream adoption anyone?
Email📭| Twitter📜 | LinkedIn📑| StockTwits📉 | Telegram🔗