This is a continuation of the article: Medicare / Medicaid / Advantage — Where Are The Opportunities For Startups? — Part 1 of 2.
1) Trends in the Space – Though there have been a lot of movement and growth in startups filling up the market within Medicare / Medicaid patients, we've seen three key trends in the past decade:
Insurtech: with the support of Medicare Act and other legislation, increased Medicare spending have caused emergence of players to generate business within payer infrastructures
Delivery–side Focus: enabling providers to deliver patient care via infrastructure or Medicare-focused clinics
Tech–focused Organizations: reducing the friction of enrollment for eligible patients leveraging tech-enabled methods such as matching and improving enrollee experience
Taking a look at existing startups and successful stories that have done well in this space, we list them below. A summary of spaces that have been covered were listed in a previous article here.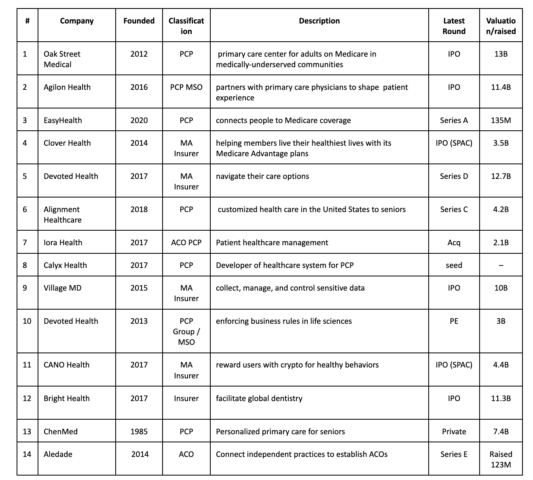 2) What Needs To Happen – At Tau, we are excited by a few plays for new entrants, including:
i) fullstack solutions– MA has become a fragmented area where startups have mainly each focused on one aspect of the patient, provide, payer triad. However, differences at the local levels of healthcare access (urban areas favor different oligopolies compared to cities) have led to disjointed partnerships between MA focused startups reaching varied geographies and demographics
ii) MA coding – differences between diagnostic coding via FFS and MA leads to excess payments due to higher risk scores generated under MA's financial incentives. This inefficiency is an under-considered space
iii) Bundled-payment pricing – transparency for pricing will become more important consideration as enrollees have more options and willing to shop around before they commit to a plan
Note from Amit Garg: Primary author for this article is Sharon Huang at Tau Ventures. Originally published on "Data Driven Investor," am happy to syndicate on other platforms. I have 20+ years in Silicon Valley across corporates, own startup, and VC funds. These are purposely short articles focused on practical insights (I call it gl;dr — good length; did read). Many of my writings are at https://www.linkedin.com/in/amgarg/detail/recent-activity/posts and I would be stoked if they get people interested enough in a topic to explore in further depth. If this article had useful insights for you comment away and/or give a like on the article and on the Tau Ventures' LinkedIn page, with due thanks for supporting our work. All opinions expressed here are the authors'.