After a rather forgettable first half of the month, crypto markets bounced back strongly last week. Total market cap closed above $225 billion, having started on Monday at just over $200 billion. Ethereum, Stellar, EOS and most notably Ripple led the way, with the latter gaining over 100% across the week. With Bitcoin only seeing modest gains in comparison, from around $6,500 to $6,700, Bitcoin dominance has concurrently dropped from 55% to just over 51%.
---
Ripple rallies by over 100%
It was a remarkable week for the third-biggest cryptocurrency, one which even saw it threaten Ethereum for second spot – and it even claimed the coveted position briefly on Friday, a day which saw it gain around 66%, before it retreated back to third place on the weekend.
The rally seems to have been sparked by several factors, most visible among them being Thursday's announcement from Stefan Thomas, former CTO of Ripple, that content creators from YouTube and Twitch can monetize their content by receiving funds in XRP through Thomas' new initiative, named Coil.
And on Monday, news emerged that Ripple Labs' much-awaited cryptocurrency service xRapid will be launched soon, possibly even as early as October. xRapid is a commercial payment service that will allow financial institutions to use XRP for cross-border transactions.
---
Another crypto exchange hacked
Japanese cryptocurrency exchange Zaif was the victim of a major hack on September 14th, having been discovered last Monday after investigating some server issues. According to the company behind the exchange, Tech Bureau Corp, $60 million in digital currencies were stolen, with nearly $20 million belonging to the company itself and the remainder belonging the exchange's clients. Various quantities of Bitcoin, Bitcoin Cash and Monacoin have been stolen from the exchange's hot wallet.
Although not one of the biggest exchanges, the hack has prompted a full investigation from Japan's main regulator, the Financial Services Agency (FSA), to determine if Tech Bureau will be able to cover Zaif's customer losses. This should come as no surprise given the high-profile thefts suffered by Japanese exchanges in the apst, including Mt. Gox and most recently the $530 million Coincheck, which caused many to consider the FSA's safeguards against such activity to be insufficient.
---
Details of potentially disastrous Bitcoin bug revealed
It was reported that a major bug in Bitcoin's code that existed for well over a year could have been used to shut down a major chunk of the network. On Tuesday, the Bitcoin Core team issued a further disclosure which revealed that the bug was worse than previously thought, although a software patch released last week seems to have fixed the problem. The bug emerged in March 2017, as part of a block relay-related performance improvement, and could have induced nodes to prevent rejecting blocks containing transactions that spend the same coins multiple times. This would enable a type of double-spending to emerge – something Bitcoin was designed to prevent.
Bitcoin developers initially sought to play down the potential impact of the bug, instead choosing to characterize it as a "less serious denial of service vulnerability," in order to give time to miners and other affected systems to upgrade their software to the patched version. It is also worth noting that the bug was never exploited, presumably because a miner would have had to intentionally attack the system, but by doing so would have had to forfeit a block reward amounting to some $80,000.
---
3 blockchain bills introduced to US Congress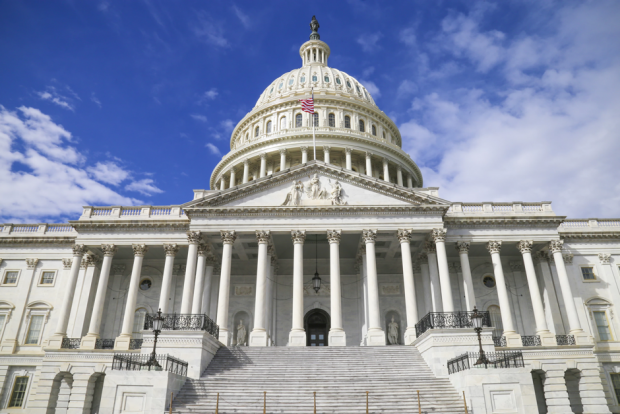 On Friday, US Congressman Tom Emmer introduced three draft bills that show considerable support for cryptocurrency. According to Emmer, "Legislators should be embracing emerging technologies and providing a clear regulatory system that allows them to flourish in the United States."
The bills focus on supporting the development of blockchain technology and the use of cryptocurrency within the US:
Bill #1 is a house resolution that supports a "simple legal environment" and a "light touch" in encouraging the development of blockchain technology and digital currencies. The bill compares this to the situation that allowed the Internet to flourish.
Bill #2 is the "Blockchain Regulatory Certainty Act", which supports allowing allows miners, wallets, and other services to operate without having to follow certain licensing rules that apply to other financial services, such as being registered as money transmitters. This would apply to crypto services that do not control their user's funds.
Bill #3 is the "Safe Harbor for Taxpayers with Forked Assets Act of 2018", which supports a "safe harbor" for taxpayers who inherit cryptocurrency during hard forks. The bill restricts fines against individuals that attempt to report these assets until the IRS provides any type of guidance regarding the appropriate means of reporting them.
---
Bitcoin mining giants introduce new generation ASIC hardware
On Wednesday, BitFury Group announced it had developed a new, more efficient bitcoin mining chip. The Bitfury Clarke application-specific integrated circuit (ASIC) chip is customized for the SHA256 algorithm – as used by Bitcoin and many other cryptocurrencies, and "offers the strongest performance among bitcoin mining chips and is unparalleled in efficiency."
And just two days later, Bitmain CEO Jihan Wu announced its own new ASIC mining chip for the SHA256 algorithm. The BM1391 chip comes ahead of Bitmain's rumored initial public offering (IPO), which is being reported to take place very soon.
---
Brazil's Biggest Brokerage Launches Crypto Exchange
Brazil's biggest independent brokerage is launching an exchange for Bitcoin and Ethereum in the coming months. Grupo XP, the owner of XP Investimentos SA, is moving into the space due to demand from the population – around 3 million Brazilians have exposure to Bitcoin, compared to only around 600,000 that invest in stocks, according to CEO Guilherme Benchimol.
The exchange will be called XDEX and be set apart from XP's other brokerage businesses. The announcement also follows the release of a set of rules by Brazilian regulators concerning how funds are allowed to be invested in crypto-assets abroad, with some limitations.