With an excess of 4 billion people using the Internet, more than 50% of the World's population is online. The smart phone revolution has given accessibility of numerous social media platforms to the people in the palm of their hands. These platforms have not only become popular as socializing tools but as digital marketing launchpads. Recent statistics show that 68% of people use their cell phones for Facebook, while a staggering 86% get on Twitter from their mobile devices. Social media usage has in fact become synonymous with the use of Internet. Facebook alone has more than 1.5 billion profiles! This can only grow from here.
As a business owner, you can effectively use the power of digital marketing on these social media platforms to reach out to your customers, promote your brand name & create business leads. However, this is easier said than done since varied social media platforms have different dynamics and you need to know how to post your message – like the right length, tone of the message, and text for every digital channel. As I said before there are numerous platforms which are equally effective as your marketing tool, but you need to figure out which one suits your product & supports your niche. Personally speaking I am an avid blogger who uses Twitter & LinkedIn on a daily basis to promote my content & Facebook to a lesser extent.
Adapting your content to match the characteristics of a particular social media platform is a must since different people use different social media platforms for the same reason. I will outline the things to look out for when curating content for different platforms below. Remember though that SEO (Search Engine Optimization) is a must no matter what platform you choose – using the right keywords will ensure that your material stands out in the sea of online content out there.
Blog
Story based – Write posts which narrate your point of view on the subject like storytelling thus keeping it interesting. The recommended length of blog posts is 1000 words or more although the ideal length of the most popular blogs on Medium is 7 mins (1500+ words).
Engaging – People are much more inclined to read a blog that includes images, videos, links to other posts, references. Also use shorter sentences & proper keywords. Presenting your opinion which incites a response from the readers will make your content interactive.
Update – This is a no-brainer. I make sure whenever there is an update on a blog that I wrote about previously, I add it to the response (or comment) section which not only keeps the engagement going but keeps the content fresh.
Promote – Share links to your blog on multiple social networks to get the maximum exposure. I use Twitter, LinkedIn, Facebook (regularly) & StockTwits sometimes depending on the content of the blog.
Email Newsletter
Email Newsletter can be considered a shorter version of a blog with a much more targeted message to the people on the list.
Divide it into sections & use shorter sections to keep it easy on the eyes.
Call to action – send a concise message which is easy to understand & actionable.
Personable & informative – Using a personal touch with the useful information creates engagement.
Impactful – Don't make the message too "salesy", it should create an impact with the content and not sound like an Ad.
Twitter
Not too Long – Twitter has a restriction of 280 words (used to be 140) so make sure every word counts.
Friendly & Personable – Personalized messages with a friendly undertone gather more response
Use media & engage – Include images, videos & links. Retweet, reply to people who respond & add questions to increase engagement
Time – Your tweet only lasts 18 minutes on average so be realistic about your content
Profile – For prolonged exposure to a post Pin it to the Profile so that it always stays on the top. Also use hashtags wisely to increase exposure.
LinkedIn
Personable & Professional – LinkedIn is a professional networking tool & great for making new business contacts or finding a new Job. Keeping a pleasant demeanor is a must.
Concise – Present information in a clear manner with links to other articles. Ask questions to interact.
Lifespan – Increase the visibility of your post beyond the standard 24 hours by adding content to your profile.
Engagement – Join groups, interact with other members by sharing your content with them. Also as a new feature LinkedIn automatically tags your post with 2-3 related tags for better search & visibility – you can always add more relevant tags to your post.
YouTube
Interactive – People engage with audio/visual content much more than regular content.
Upload longer videos on evergreen topics by presenting solutions to problems.
Include relevant keywords in your title, description & tags.
Facebook
Pin posts to your profile page to extend visibility of your content.
Boosting your post by an Ad is a popular option to reach out to a bigger audience.
Repurpose your popular posts to reach a new group of fans every time.
Biggest social media platform but has seen losing favor recently with the data breach scandals
Instagram
Use colorful images for your posts since Instagram is primarily a visual platform.
Adding relevant hashtags to caption are very helpful in getting your content noticed.
Figure out your most popular posts & upload similar content to generate more traffic.
Most used platform by the Millennials if you are targeting that spectrum.
Pinterest
Another visual platform so use colorful images to grab people's attention.
Pinterest content stays visible the longest of all the social media platforms.
Use long pins with a combination of both text & images.
Some of the other popular ones included Reddit, Snapchat & Tumblr. And if you still don't know Google+ was shut down by the parent company after an earlier data breach. The first of the two infographics below shows the tools which you can use to manage your social media posts on different platforms effectively & in a timely manner. While the second one shows you key statistics about different social media platforms out there.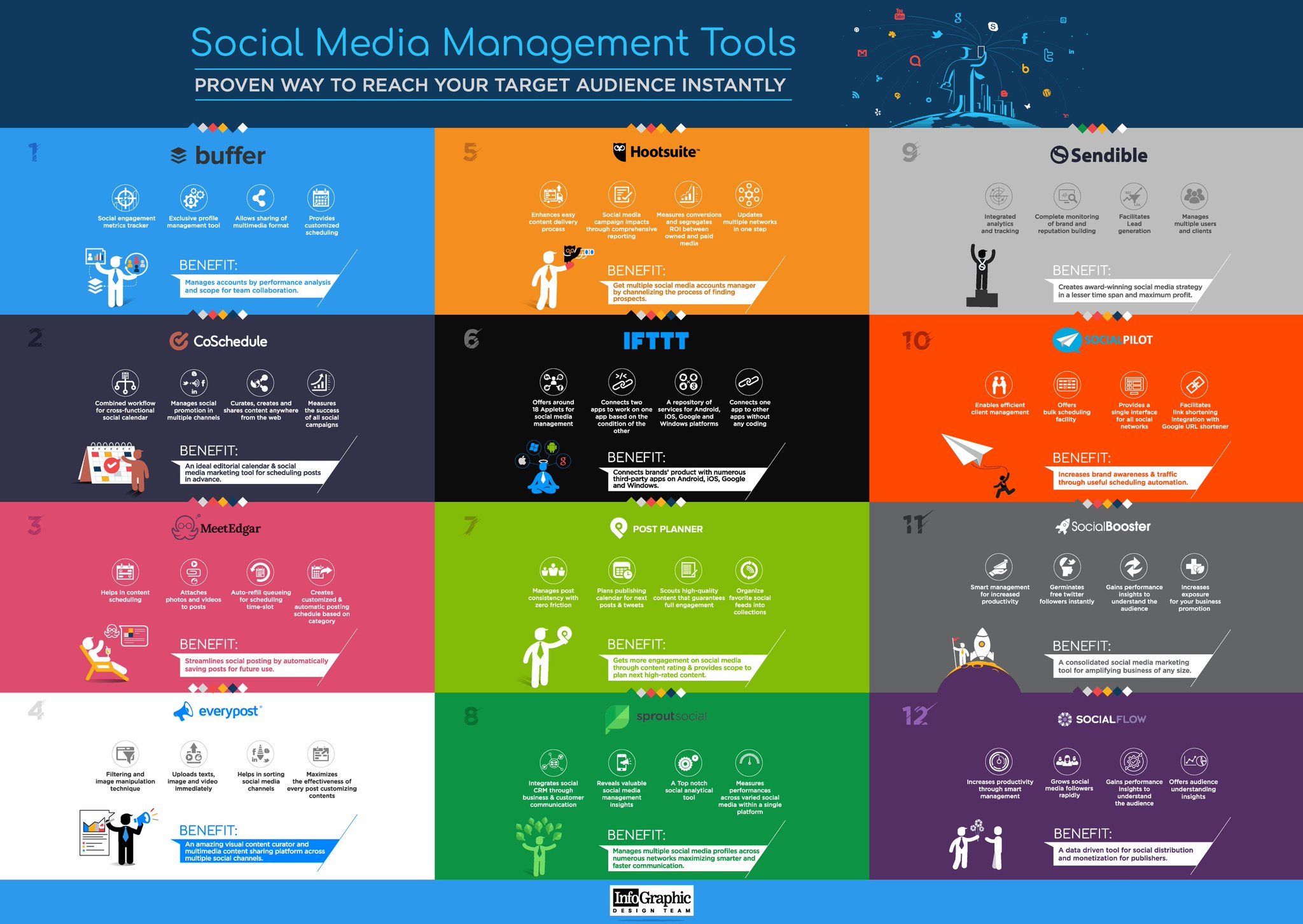 Stay in touch: Twitter | LinkedIn | Tradealike | StockTwits | Telegram