Every industry nowadays is propelled by the massive adoption of new technologies and digitization. It gives us the perfect picture of how the convergence of these new-age tools and technologies can make work seamless for both service providers and customers. Well, in this technology adoption race, the finance and banking sector is not left behind. Their landscape is enhanced and boosted by the new era of digital technology.
Blockchain is among the trendiest technologies that have covered the sphere of the banking industry. Since its invention in 2008, blockchain technology has emerged out as a positive tool in every aspect of businesses. Due to its various helpful features like immutability, transparency, and decentralization, blockchain has helped many industries work with the utmost potential. Blockchain can help to find fraudulent transactions and improves to make it more secure with an improvised identity system (KYC).
Therefore, the buzz of blockchain integration into the banking sectors is not just about how another new cutting-edge technology is being adopted, but it's more about how much smarter the processes in these sectors can become. However, as of now, blockchain technology has completely transformed the banking industry by its core processes much more efficient, secure, and transparent.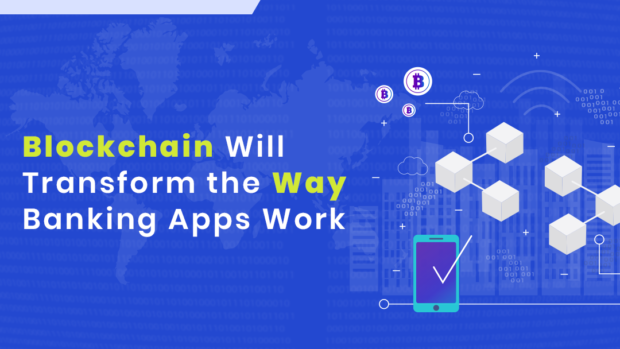 As we know that blockchain is known for making transactions easy, faster and secure. But many of you are unaware that blockchain is more than supporting Bitcoin. With its advanced features and functionalities, blockchain has helped many businesses from various sectors enhance the global market with ease. 
By implementing blockchain technology, finance and banking are leading the path. But on the other way, the digital banking sector is currently facing several issues, including non-functional institution threads. In this article, we are going to read about how blockchain will transform the way banking apps work or function.
Blockchain – A Solution For Banking Apps

Blockchain is a perfect and innovative solution for financial and banking applications. It works as a decentralized unit for every kind of transaction carried out through the P2P network. Bank and financial institutions are working on blockchain to improve the usage of technology in order to leverage the inefficiencies of the current banking system.
Transaction Details

Generally, banks can use blockchain for more than moving money. Technology is used to keep a track of transactions, and it may be helpful in several aspects of areas.
Title Details
Since it's not easy to temper ledger transactions, they can make it more efficient to track ownership. Each transfer of ownership (links and other activities) can go into the ledger. It gives you a result of a trustworthy source of information about almost any type of property.
Smart Contracts

There were several activities in the past that were adding cost, complexity, and transaction delays. Now, these complicated activities can be automated. Smart contracts can track or monitor payment of customers, when a vendor ends the agreement and manages a wide range of issues.

Moreover, they provide a correct schedule with no mistakes. Smart contracts can be as straightforward as an indifferent third party between a customer and a vendor. In conjunction with open banking, encrypted intelligent agreements could lead to quicker, automated load choices in the market of bidders.
Economic Inclusion

By maintaining low expenses and enabling startups to compete against major banks, blockchain and other techniques can encourage financial inclusion. Blockchain-based solutions can help customers in several ways who don't wish to open bank accounts due to elevated charges, minimum balance requirements, and the absence of access. They are in need of a portable phone instead of requiring assets and periodic earnings for banks. Digital IDs can be a perfect solution for a large-scale where the identification of people is traditionally difficult.
Reduced Fraud

Financial frauds have become a major factor while performing banking transactions. The financial frauds have modularized financial crimes, and these activities have taken the downfall of various companies, the global economy, the national economy, the loss of trust, etc.
Blockchain helps you save from hacking, DDOS attacks, and other frauds. Therefore, blockchain has helped banks to a great extent in many issues. With blockchain technology, digital data or information can be shared, viewed, and stored with the utmost security. All the transactions are carried through cryptography encryption.

Moreover, transparent decentralization protects the entire transaction from any fraud or tampering. Hence, by implementing blockchain technology, banks can increase their security levels and transparency for the transactions.
Improved KYC

The banking and financial software development company are responsible for complying and reporting on a number of requirements from their local customers. So, KYC – Know Your Customer is an effective way to prevent fraud and fight against such crimes. But it's such a time-consuming process and lacking automated customer identification technology.
But Blockchain-based technology can provide a digital single source of ID information. It allows for the seamless exchange of documents between banks and external agencies. This would help you in automated account opening, reduced resource and cost, all whilst maintaining the privacy of data that's legally required.
Money Transfer
If you are looking to transfer money to another country, you can easily share and transfer without having any issue. Many organizations are transferring hundreds of thousands of dollars internationally on a daily basis, and the process has traditionally been expensive and risky.
But blockchain-enabled currency like Bitcoin provided an alternative way to transfer money and improve remittances and minimize exposure to cryptocurrency.
Blockchain-based transfers save time and money. And customers also can benefit from it. For example, a worker working in the USA wants to transfer money to his family in another country. Before, he'd have to travel to a money transfer office, stand in a long queue and wait for an agent, pay cash, and pay extra fees of 7-10% to make a transfer. The received might follow a similar process. But with blockchain technology, the process has become much easier and both parties can complete an electronic transaction with their smart devices.
Wrapping Up
Blockchain is still relatively new and has provided an excellent idea to the banking sector. Though, its implementation is giving tremendous benefits and results in banking apps as well. However, at the moment, the technology is probably ahead of regulations.

And blockchain is the perfect solution that can address various existing challenges and bottlenecks. The blockchain technology provides reliability, security, efficiency, cost-effectiveness in various processes which directly improves the eminence of the services for the customer.
If you are planning to develop a Blockchain-enabled banking app for the Banking and Financial Sector, you should contact a renowned mobile app development company. Many companies will benefit from implementing blockchain in their business. The technology is bound to be a monumental shift in banking and financial industry history even in the shortest possible time.