Numerous blockchain/crypto projects are cropping up all around us promising different real-world use cases. Combing for viable ones in this haystack is difficult, but some of them stand out by virtue of their functionality, the industry leaders that are involved in developing them or a combination of both. The DLT transformation is still in an infancy stage & it is difficult to stay which projects would eventually become the leaders while others would fade away in obscurity. Keeping that in mind let's take a look at a few of the interesting ones that I came across last week.
Smart Credentials
Last month I wrote about Blockcerts — an open standard platform which verifies & issues blockchain-based records including civic records, academic credentials, professional licenses, workforce development & more by governments, companies & educational institutions. This project is a joint venture between the startup Learning Machine & MIT Media Lab. Now, one of the big four auditing firms PriceWaterhouseCoopers (PwC) has jumped into the arena with its own blockchain based Smart Credentials platform aimed specifically at verifying employee credentials. Most of us enjoy our academic certificate or professional qualification hanging on the wall, but it becomes a chore and half if we need to share it or keep a digital record of these achievements. Smart Credentials addresses this problem by giving owners the ability to share their credentials digitally and safely.
The trial of the platform was conducted for PwC employees who qualified from the Institute of Chartered Accountants of Scotland (ICAS) in the last two years. All of us who have gone through an employment process know how time-consuming, labour intensive and costly is the whole process. On top of that the paper credentials are prone to fraud & loss with a high replacement cost. According to a recent PwC survey 78% of employers conduct background checks & 37% of hiring managers reported bad hires due to candidate's credential misrepresentation. Smart Credentials platform not only helps the owners but the Issuer & the Reviewer in the following ways:
Issuer – Saves cost by reducing the burden of issuance, re-issuance and credentials verification process. Offers a lighter infrastructure as no physical storage is required to store paper-based credentials
Owner – Candidates have a streamlined system via which they can share their credentials. Easy to store their digital documents in a wallet which can be shared in real time with safety & ease. The process gives more control to the owner who can choose to revoke the reviewer's visibility of their credentials.
Reviewer – Significantly reduces the overheads for the reviewer. Makes sure that the credentials are genuine. Time saved can go towards speeding up the hiring process & resources can be allocated away from the verification to other value-added services.
J-Coin
It was only a couple of weeks ago when we saw the JPMCoin being launched by the biggest U.S bank in the quest for moving to a digitized economy. Other central banks & financial institutions around the world are in various stages of testing digital currencies. One of the most noteworthy projects in this regard is the J-Coin (originally labelled MUFG Coin) which was announced by a consortium of Japanese banks last September to be launched in time for the 2020 Tokyo Olympics. Japan's financial giant Mizuho Financial Group (MUFG) partnering with around 60 domestic financial institutions claiming to have around 56 million users will have digital wallets for the associated J-Coin. Following are some of the features of the J-Coin:
The inception of the coin is aimed at doubling the ratio of cashless payments to 40% by 2025 in Japan – and thus reducing the dependency on cash which incurs additional costs for the banks & the government.
It is a Yen pegged stable coin – which means every digital token would be backed by Japan's national fiat currency Yen.
Android & iOS apps for the stable coin have been launched on March 1 as promised.
The most prominent feature of the digital coin is the ease of use & convenience – All users have to do is to scan the QR code within the J-Coin App at the checkout & it's done. Clients can also transfer money to and from the J-Coin wallet to their bank account free of charge.
Keeping in mind wider adoption & inclusiveness, J-Coin Pay will be available for all age groups including minors. MUFG intends to reach 6.5 million users and 300,000 outlets within the next few years. This goal is still dwarfed by J-Coin's biggest competitor Line Pay (Line chat app's payment system) which has 79 million users and is accepted at 1.3 million outlets.
J-Coin also plans to foster foreign relationships with the likes of China's giant Ali Pay to have them accepted at stores participating in J-Coin Pay.
Sufficed to say J-Coin has hit the ground running & it is replicating the moves to cashless societies as we have seen in some of the Nordic countries as well – most prominently Sweden. The backing of the major financial institutions has given it the base it needed.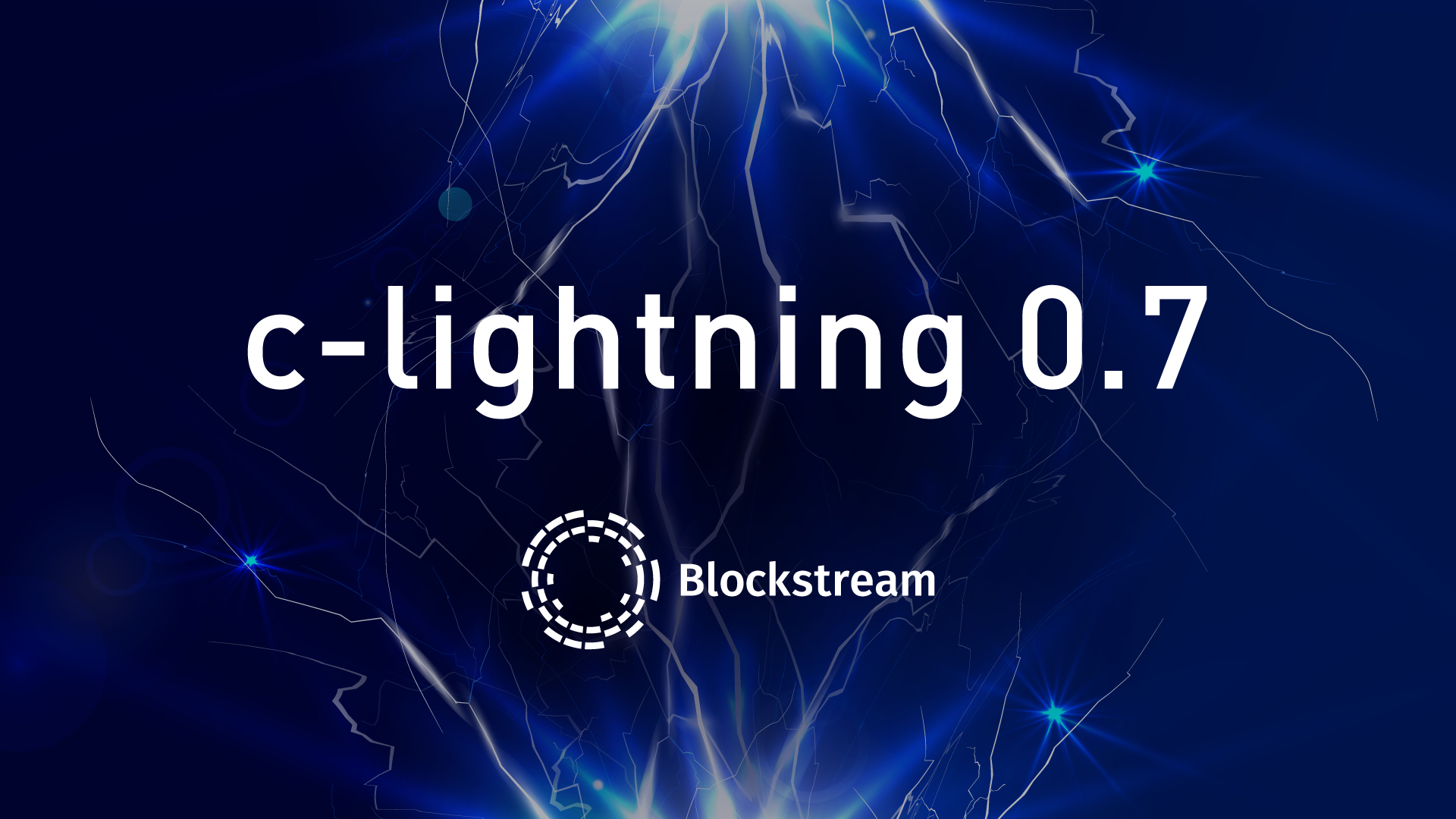 c-lightning 0.7
Blockstream is one of the blockchain powerhouse companies offering an impressive line of products & services including Liquid sidechain, Blocksteam Store, Cryptocurrency data feed, Block explorer & Blockstream satellite. The blockstream store acts as an e-commerce outlet for bitcoin retail style transactions where you can buy merchandise in the cryptocurrency using the Lightning network (LN). Blockstream just released the upgrade of its bitcoin scalability solution c-lightning 0.7 – eight months after the release of its previous beta, improving on its shortcomings. c-lightning is one of the implementations of the Lightning network apart from Eclair and Ind. The implementation differs from the main protocol in the sense that is more modular & extensible. Here are some of the new features added to the new version:
Plugins – This core feature of the latest version allows developers to construct their own applications in any programming language to extend the functionality of the Lightning network, making it more customizable & extensible.
Routeboost – allows send and receive payments over non-public blockchains letting the privacy based nodes keep their secrecy.
Improved Funds management – offering better control over the funding & withdrawing coins from channels and nodes.
Better security – Enabled by default function option_data_loss_protect function offers heightened security against data losses
Better documentation – Revamped documentation automatically gets generated at lightning.readthedocs.io
For complete details on the upgrade features Click here. Blockstream has reiterated the fact that this is just the beginning of bigger & better things to come in the future. Only recently Blockstream CEO Adam Back, as a strong proponent of blockchain technology, had also participated in the Lightning Torch Bitcoin relay initiative by passing it to PayPal COO Reid Hoffman to spread the word about Bitcoin micropayment solution. More good things to come… stay tuned!
Email📭| Twitter📜 | LinkedIn📑| StockTwits📉 | Telegram🔗