Blundering online amounts to digital marketing malpractice. Engaging the wrong way—or not at all—muffing search engine optimization and other miscues dig deep holes to climb out of. 
Mistakes are bound to happen, but if you get it wrong from the start in digital marketing, it can haunt your business forever, which Melanie Namulwany Hapisu knows well. Besides being a digital marketer, she is an advertiser, strategist and trainer.
During an Africa Tweet Chat, she talked about digital marketing mistakes and how to avoid them. 
Namulwany Hapisu cited the most common missteps she sees:
Creating social media pages and not posting at all. It's not enough to just create the page and have it sit there. You need to build an audience and give value to them using the content you put out on that page.
Spending recklessly on paid ads. All you need to do is strike a balance between organic growth and paid growth. No need to spend recklessly.
Deleting comments when things go wrong. This should be a No! No! No! Address the issue whether it's on the comment section or separately on direct messages. Never delete.
Targeting everyone. You have to be clear about this from the word go because no brand targets everybody.
Not being consistent. Remember, consistency doesn't mean you post every day. It could be once a week.
Not responding to comments and messages. Don't just put out content and desire engagement, and then leave. When you get that engagement, make sure you engage as well.
Anti-social head-shakers
Brands often make an egregious content mistake they can easily avoid. 
"They miss the 'social' in social media," Namulwany Hapisu said. "Rather than selling too much, strive to educate your audience more.
"There's also a lack of mobile-friendly content," she said. "Most people are on mobile. Therefore, when creating your content, ensure you put that into consideration."
To learn more about creating content, Namulwany Hapisu produced a podcast episode about how to leverage content marketing for business.
Not updating old customers is another unnecessary problem.
"You end up missing out on an opportunity to retain them," Namulwany Hapisu said. "They have no idea what you are up to or what new services you are providing that could benefit them. You are basically giving them no reason to pay attention.
"It may also limit you from getting referrals from them," she said. "That's crucial if you have a service that someone in their circle may be in need of."
This is doubly bad if a business has not kept consumers in general informed about new service offerings.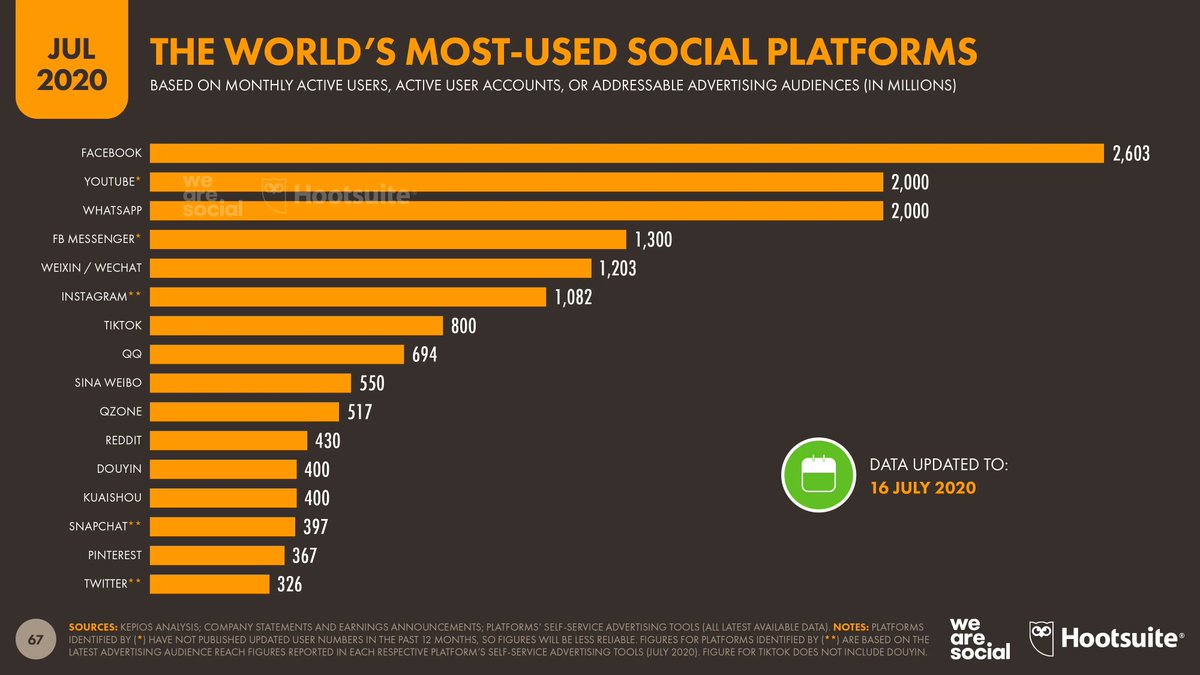 Besides making mistakes online, it's equally bad not to be there at all. 
"You are definitely going to miss out on part of your target audience that has an online presence," Namulwany Hapisu said. "A simple visual can show you some of the most used social platforms around the world. Imagine how many people you can reach with social.
"Using social media enables you to reach a wider audience—including an international audience," she said. "Can you imagine being able to reach this many people? That's amazing."
Answers in the numbers 
Checking analytics can solve most digital marketing mistakes.
"Analytics can help you understand who exactly you're talking to on social media, when they are online, what type of content they consume," Namulwany Hapisu said. "These are common issues people experience.
"Analytics basically helps you understand what is working and not working, based on your online communication," she said. "Once interpreted, analytics can actually help in decision making."
Facebook reporting and insights tools have a two-fold benefit if a business has existing pages, according to Namulwany Hapisu:
Know when people are online on your page and what time they are online.
Know what kind of content your audience has been interacting with based on your communication.
"When implementing a digital marketing strategy, do not change it before you start," Namulwany Hapisu said. "Address your audience's pain points.
"Have a marketing budget," she said. "In as much as you would like to grow organically, ensure you have a balance."
Casual dating 
Namulwany Hapisu goes into her marketing strategies well prepared:
Set realistic digital marketing goals.
Do not take on too many strategies without proper resources.
Do not expect results overnight.
"Think of social media like getting to make a new friend or flirting with your crush," she said, "It takes time."
Conversely, Namulwany Hapisu has found reasons why an SEO strategy might not work:
Your website may have poor content.
Your website has a high bounce rate.
Your website isn't mobile friendly.
Most consumers are now on mobile.
Maybe you're expecting results too soon. SEO needs patience.
"Intentionally make time to create content," Namulwany Hapisu said. "This is your baby. You need to take care of it. 
"If you have to create content once a month and schedule all of it, then do just that," she said. "Then you can engage your followers often."
One of the greatest digital marketing tools is right at your fingertips. 
"Have your personal social media and brand profiles on your phone," Namulwany Hapisu said. "Then as soon as you get notifications from your followers, you can engage on the go."